Application for marketing automation that helps to convert potential stakeholders into business relationships.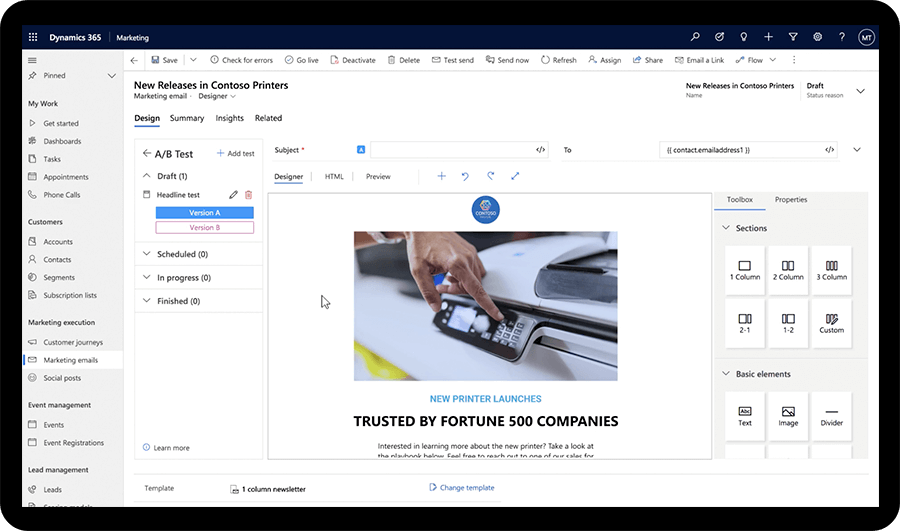 The app allows you to create rich emails, create multichannel campaigns, design personalized customer journeys to consolidate your relationships, share relevant information between teams, organize events, classify potential customers and highlight the MROI, and others.
Optimize your campaigns and increase sales
Increase your sales and your sales team's productivity, with a marketing strategy supported on a platform that allows you to transform market information into efficient contact with your potential customers.
Optimize your marketing campaigns' effectiveness and communications with your customers through Dynamics 365 For marketing.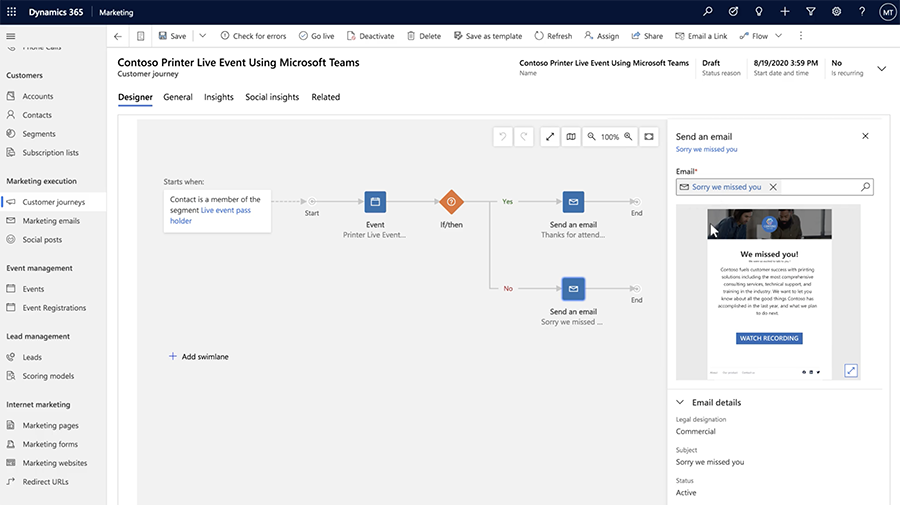 Integrated communications with data quality
Integrate your different media communications with your clients in the same platform, and allow your sales team to have a 360´ vision of the clients.
Expand the possibilities of communication with your work team through the use of Mobile platforms integrated with the business processes defined by your company.
Generate a higher data's quality that goes into your systems through the configuration and flexible modeling of the surrounding information in the business processes that your company develops.
Dynamics 365 Marketing is an automation app that enables you to build more profitable business relationships by creating seamless experiences, helping you increase lead generation, making stronger your marketing capabilities, and expanding sales opportunities.
It is an application that has functionalities that help you gather all the information of your clients, carry out analyzes and reports to measure the success of activities carried out, implement new campaigns, measure performance and evaluate customer preferences.  
Dynamics 365 Marketing Complements
Dynamics 365 Marketing is an easy application that works seamlessly as a suite or add-ons with other Dynamics 365 products, includes a set of applications and solutions carefully selected to support the marketing department and coordinate with sales.
Being already LIVE we can say that is a successful implementation thanks to an excellent consulting team by Congroup and a great transversal commitment of the organization on the part of Citroën, being able to fulfill in date and budget ".
Thanks to the work and commitment of Congroup team and our internal consultants, we were able to successfully carry out the Chilean localization implementation, managing to incorporate all the company's management within a single tool-solution under the legal regulations of the country. "
Consult one of our advisors now and discover the growth potential you business can have.